UPDATE FEB 17th: - - - ONLY 9 12 PLACES LEFT - - - ONLY 9 12 PLACES LEFT - - -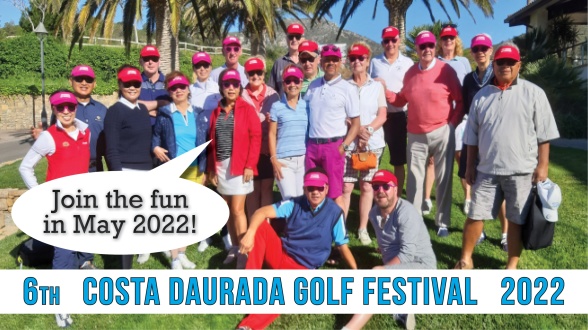 For the 6th consecutive year we are happy to announce our international golf event for happy and open-minded golfers looking for a relaxed and fun golfing holiday:
Taking place in Costa Daurada, Spain between May 11 - 17th, 2022
If you are not afraid to meet new people from all over the world then you are most welcome to participate in our "Costa Daurada Golf Festival" that takes place between May 11-17, 2022.

Sign up now and you will have the chance to enjoy some great golf courses combined with sunshine, gastronomy and social events where you will meet other golfers from all over the world. The event will be our 6th event in a row!

The full package costs 995 euro per person and includes:
6 nights at Hotel Monica **** staying in a single room
Daily breakfast buffet and 4 dinners with wine & water
4 days of golf and free range balls
All transfers (airport transfers according to schedule and all golf transfers)
Arranged individual and team tournaments with prizes to those who play well!
Welcome gift
Local tour guide present at all times (from early morning until past bedtime...!!!)
Golfers from all over the world will join this event so if you are looking to meet new golfing friends in a relaxed and international environment sign up for the trip today!

DAILY PROGRAM: the Costa Daurada golf FESTIVAL 2022
Wednesday May 11: Arrival to Barcelona Airport or Reus Airport where you will be met by the organizers, followed by transfer to the Mónica Hotel ****. Welcome reception in the evening followed by dinner at the hotel with wine/beer included.

Thursday May 12: Your first round will be played at Costa Dorada, the oldest course in the region with a lush and mature parkland layout. Tee-times from 10h00. In the evening, we are planning for an entertaining "Quiz Competition" somewhere in the hotel bar and then restaurant suggestions will be given (evening meal not included).

Friday May 13: The second round will be at Lakes, a championship course designed by Greg Norman. Tee-off from 10h00. Informal "Après-Golf" somewhere in Cambrils from 19h00 followed by dinner in Cambrils with wine/beer included.

Saturday May 14: After two intensive days you now get a free day to enjoy as you please. We will provide suggestions based on your preferences. Maybe you just want to relax on the beach? Or go shopping in Tarragona or Reus? Or perhaps visit Barcelona? Or go for a wine tasting? You may even want to play golf? Evening is free at leisure.

Sunday May 15: Your third round of golf will be played at the challenging Bonmont course with tee-off from 10h00. Before leaving Bonmont, the "Short Game Championship Qualifying" will take place around the putting green. Informal "Après-Golf" in the hotel bar from 19h30 followed by dinner at the hotel with wine included.

Monday May 16: The last round of golf will be played at the spectacular European Tour Qualifying Venue Hills with tee-off from 10h00. Before leaving Hills, the "Short Game Championship Finals" will take place. In the evening, Farewell Dinner in Cambrils with prize giving ceremony!

Tuesday May 17: Departure day with transfers according to schedule to Barcelona Airport and Reus Airport.

When it comes to pairing golfers for each day of play we will always do our best to mix you up so that you get the chance to make new friends on the golf course!

During the four days of golf there will be a mix of very casual team- & individual competitions. Not to be afraid of. Just to enjoy.
There will be three (3) scheduled Airport transfers on arrival and departure day. When we have confirmed to you that there is a place available for you, please book a flight that is convenient to one of these transfers. Driving time between Barcelona Airport and Cambrils is approx 1 hour and 10 minutes.

Arrival day May 11th: transfer departing Barcelona Airport at 11h30 + 14h30 + 17h30
Departure day May 17th: transfer departing Cambrils at 08h00 + 12h00 + 16h00

If you are unsure of which flight to book, please consult with us by sending us an e-mail and we will advise on which flights are best to book.

If needed, times can be slightly adjusted in order to better accommodate the group.

If your Airport is Reus (REU) then you can arrive and depart at any time of the day. We will take care of your transfer regardless.
The Costa Daurada Golf Festival is really about gathering golfers from all over the world and offering them a relaxed and fun golf holiday. But since golf is also a game where you can compete we will offer a mix of very casual team- & individual competitions.
Not to be afraid of. Just to enjoy!

During competitions you will will play with your full hcp apply (with no adjustments for "slope" or similar). Hcp requirement: 36,0 or less. A certificate from your Golf Club stating your current hcp will be required.
SUMMARY OF previous YEARs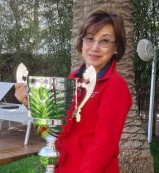 In 2019 the Festival Trophy was won by Lim Mee Yong ("Jennifer") from Malaysia who played really solid golf over the two rounds .

Her scores were 40 + 34 points for a total of 74 points. Well done Jennifer and congratulations from all of us!

In 2018 the winner was Ms Annie MacMahon from Ireland with scores of 36 and 29 points for a total of 65 points.

In 2017 the winner was by Ms Lynne Walder with scores of 32 and 33 points for a total of 65 points.

In 2016 the winner was Ms Clodagh O'Donnell from Dublin with scores of 40 and 36 points making a total of 76 points.

In 2015 the winner was Ms Ann Doyle, also from Dublin (Ireland) with scores of 38 and 34 points for a total of 72 points.

For some strange reason, we have never had a gentlemen lifting the Festival Trophy.....
Will it finally happen in 2021? #comeonguys #menarenottotallyuseless

And here, some photos from the previous years.....
THE COSTA DAURADA
GOLF Festival 2022
The full package includes:
6 nights accomodation in double room for single use at Hotel Monica **** with breakfast buffet
4 dinners including beer or wine
4 greenfees and free rangeballs
All transfers (airport and golf)
Tournament organisation and prizes
Welcome gift

Price per person: € 995
Discount if sharing twin: € 150

Extra nights with breakfast: 50 euro per person if sharing or 75 euro in single room.

No flights are included in this package. You will have arrange your own flight to Barcelona (BCN) or Reus (REU).